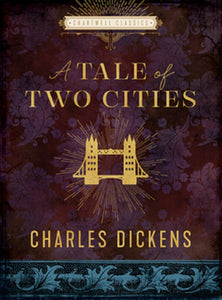 CONDITION:
Brand new
Explore Dickens' classic tale of order and disorder, death and resurrection with A Tale of Two Cities.

Taking place in London and Paris in the eighteenth century, in the years leading up to and during the French Revolution, Charles Dickens' A Tale of Two Cities is one of injustice, revenge, rebirth, love, and sacrifice.

Originally published in thirty-one weekly installments in 1859, this novel is uncharacteristic for Dickens as it lacks comic relief, as well as a protagonist, though London and Paris are considered to be the true protagonists of the story. The turbulence found in this epic tale is also believed to reflect the turmoil in Dickens' personal life at the time.

Complete and unabridged, A Tale of Two Cities is an essential collectible that features an introduction by English literature scholar Brian Bartell and a timeline of the life and times of Charles Dickens.