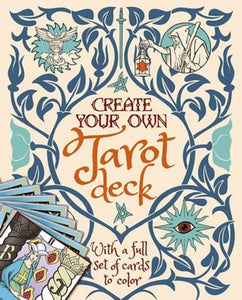 CONDITION:
Brand new, publisher overstock. May have light shelf wear and/or a remainder mark. If you need more than 1 copy please let me know as I often have extras on hand that are not included in the "available quantity for sale".
Overview
Tarot cards are a powerful form of divination, and their intricate and beautiful designs make them a treasure to keep.
Create Your Own Tarot Deck allows you to color and customize your own tarot deck, containing 78 press-out cards. Inside you will find guidance on each card's meaning and instructions for interpreting different spreads, including the Celtic cross. Personalizing your deck will encourage deeper thinking about each card's meaning and is a great way to relax and meditate. For Tarot newcomers, the coloring exercise will introduce you to the Major and Minor Arcana and may well inspire a fascination with Tarot and the insights it brings.
By the end of this book, you will have mastered the basics of tarot reading and have your own beautifully personalized deck get started with.
Details
    ISBN-13: 9781839402555
    ISBN-10: 1839402555
    Publisher: Sirius Entertainment