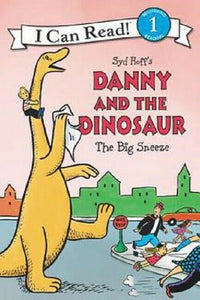 Brand New, publisher overstock copies. Book may have light shelf wear and/or remainder mark

If you need more than 1 copy please let me know as I often have extras on hand that are not included in the "available quantity for sale".
After a day of playing in the rain, Danny and the dinosaur each catch a cold. How will Danny and the dinosaur both turn a sick day into something fun?

Everyone knows that getting sick can be a bummer--but this lovable pair's creative ways of keeping a positive attitude will delight young readers as well as parents and caregivers.

Readers first fell in love with Danny and his prehistoric pal in the I Can Read classic Danny and the Dinosaur, created by Syd Hoff in 1958. Now the popular pair is together again in a sweet and funny Level One I Can Read adventure sure to win over a new generation of beginning readers.

Danny and the Dinosaur: The Big Sneeze is a Level One I Can Read, which means it's perfect for children learning to sound out words and sentences.