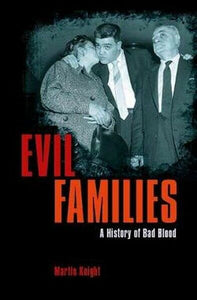 Brand New, publisher overstock copies. Book may have light shelf wear and / or remainder mark.
If you need more than 1 copy please let me know as I often have extras on hand that are not included in the "available quantity for sale".
Save 5% Off Your Order By Buying Any 2+ Items In Our Store!
Evil Families examines the lives of families who are bad to the bone with malevolence in their DNA. From wicked dynasties in Ancient Rome through the families of drug lords and inbred families of the modern age to neighbours from Hell, this book is about murder, madness, lust, ruthless ambition, betrayal and intrigue. Filled with photos, this history features dysfunctional families of every stripe, from the Ptolemaic dynasty that terrorized Greek Egypt for ten generations and the Qing Dynasty of Ancient China who cultivated cruelty as an art form, through the Tudors, the Medicis and the Borgias on to the cannibal families of the New World - the Harpe Brothers of Kentucky, the Bloody Benders of Kansas and their near neighbours the Stafflebacks - and beyond these cases to the vices and violence of the Mafia, and mob rule on London streets .