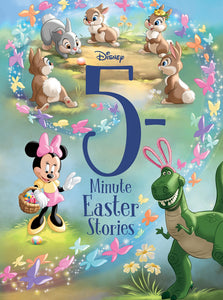 Five 5-Minute Easter Stories Disney Storybook For Kids Children Story Book
Title: Five 5-Minute Easter Stories
Author: Disney
Year: 2020
Publisher: Disney Press
Format: Hardcover / Hardback
Condition: Brand new, slight shelf wear. SHIPS IN A BOX!
Book Summary: 
Each of the twelve stories in this collection is the perfect length for reading aloud in about five minutes, making them perfect for jam-packed days!
This treasury stars beloved characters from the Disney Bunnies and Winnie the Pooh to Monsters, Inc. and Cinderella. With stories about spring-time fun or Easter Egg hunts, every story is a delight, perfect before bedtime, story time, or anytime!