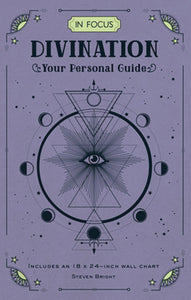 CONDITION:
Brand new, publisher overstock. May have light shelf wear and/or a remainder mark. If you need more than 1 copy please let me know as I often have extras on hand that are not included in the "available quantity for sale".
Learn the basics of how to read secret signs and symbols to provide insight, inspiration, and direction about the future.
This accessible and beautifully designed guide includes a frameable poster featuring popular methods of divination.
Divination is the art of extracting hidden meaning from the present by using supernatural tools, or oracles, as guidance for the future. Some ancient divinatory methods may seem primitive now, such as shamans in antiquity observing animal entrails, while some methods have remained popular throughout the ages. Diviners today still use methods that draw on the environment, including reading runes or cards, floromancy (reading flowers), and even conchomancy (reading seashells). Our questions might differ from our ancestors', but we still harbor the same basic needs and keen desire to know, understand, and improve the future. To help you see and change it for the better, learn:
what tools you need for each method
tips to enhance any reading
how best to phrase questions for the oracle
systems of interpretation
how to present information in a tactful, compassionate, empowering way
and more
There's something here for every diviner, and you can use what you already have on hand for magickal purposes. Combining elegance and expertise, this is
your essential modern guide to an ancient tradition
.
The In Focus series applies a modern approach to teaching the classic body, mind, and spirit subjects. Authored by experts in their respective fields, these beginner's guides feature smartly designed visual material that clearly illustrates key topics within each subject. As a bonus, each book includes reference cards or a poster, held in an envelope inside the back cover, that give you a quick, go-to guide containing the most important information on the subject.