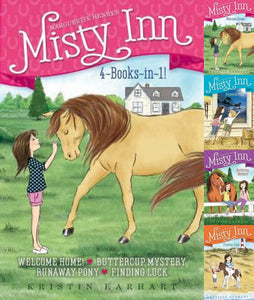 Marguerite Henry's Misty Inn Series Book 1 2 3 4 Welcome Home by Kristin Earhart
CONDITION:
First Edition / 1st Printing. Brand new with light shelf wear and remainder mark on top edge.
Overview
Join siblings Willa and Ben Dunlap in the first four stories of the chapter book series inspired by Marguerite Henry s "Misty of Chincoteague," now available in a paper-over-board bind-up
This paper-over-board edition includes four books of the Misty Inn series, from Willa and Ben s move to Chincoteague to the galloping adventures that follow.
In "Welcome Home "the Dunlaps begin their new life on Chincoteague Island. With so many new people and places to get used to, Willa and Ben wonder if Chincoteague will ever feel like home.
There s a sick pony in "Buttercup Mystery" Something Buttercup is eating or being fed is making her ill. Can Willa and Ben solve this pony problem and help Buttercup feel healthy again?
There s cause for a nighttime adventure in "Runaway Pony." Full Moon Fancy is a pony with a knack for getting loose but when she gets out one too many times, Willa and Ben are worried she s lost. They set out to track her down in the moonlight Will they find the runaway pony, or is Fancy lost for good?
The Dunlaps bed and breakfast is finally finished in "Finding Luck" But one disaster after another threatens the grand opening and Willa and Ben begin to worry that running an inn wasn t such a great idea after all."
Details
    ISBN-13: 9781481484404
    ISBN-10: 1481484400