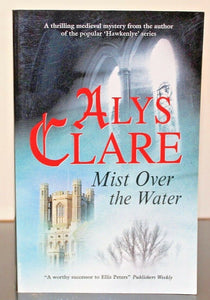 Mist over the Water by Alys Clare Paperback An Aelf Fen Mystery Series Book 2
Title: Mist over the Water
Author: Alys Clare
Series: An Aelf Fen Mystery Series Book 2
ISBN-13: 9781847511911
Year: 2011
Publisher: Severn House
Format: Paperback
Condition: Brand New, light shelf wear.
Genre: Medieval Mystery / Thriller
Summary:
'This page-turning historical thriller from one of Britain's most talented popular fiction authors ticks all the boxes' - Booklist Starred Review

The second in a brand-new medieval mystery series from the author of the popular Hawkenlye series

On Ely Island, the Normans are proclaiming their authority with the construction of a magnificent cathedral. When Morcar, fishing for eels nearby, is attacked, his cousin Lassair is sent to nurse him. Morcar tells Lassair a frightening tale of assassins in the dark and a brief vision of horror. Then the killers strike again, and, as the secret hidden within the walls of Ely Abbey claims more victims, Lassair is forced to face a challenge that she fears is far beyond her . .