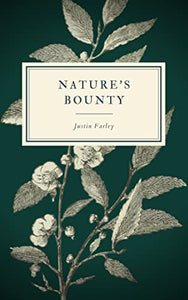 Brand New, Signed by author.
This nature poetry collection will reach the hearts and minds of hikers, bird watchers, campers, naturalists, and all those who hold the rivers, lakes, mountains, animals and forests in high esteem. Contains poems on subjects such as birds, animals, the spiritual aspect of nature, gardening, flowers, trees, hiking in the woods, etc. A mix of structured, rhyming poetry and free verse. These are deep, soulful poems that go beyond short, 4 line verses.

Justin Farley's second chapbook is a collection of poems about nature. Starting in his early childhood, the woods have been a teacher and source of beauty, exploration, adventure, and love. "Nature's Bounty" is the accumulation of a lifetime of wisdom gained from exploring the outdoors and observing the lessons nature teaches us.