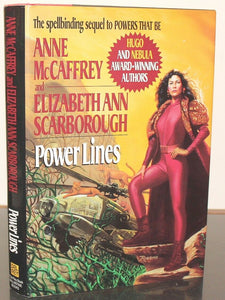 Power Lines by Anne McCaffrey Hardcover First Edition 1st The Petaybee Series Book 2
Title: Power Lines
Author: Anne McCaffrey
Year: 1994
ISBN-13: 978-0345381743
Publisher: Del Rey
Format: Hardcover / Hardback
Vintage: Yes
Collectible: First Edition, 1st Printing
Condition: 1994 First Edition / 1st Printing In excellent shape with light wear to cover and DJ. No markings. DJ NOT price clipped. NO remainder mark. SHIPS IN A BOX!
Genre: Science Fiction Books
Book Summary:
The spellbinding sequel to "Powers That Be," by Hugo and Nebula Award-winning authors Anne McCaffrey and Elizabeth Ann Scarborough.

The natives of Petaybee claimed their planet was sentient, but the officials of Intergal did not believe them . . . or want to believe them. The planet was rich in valuable ore, and Intergal was determined to mine that ore no matter what the cost. Yanaba Maddock, once a company spy, was adopted by the planet and its people as one of their own. Now her loyalties are to Petaybee, not Intergal, and she is dedicated to keeping Intergal from killing the world she has come to love. But without proof of the planet's sentience, Intergal will proceed with its mining operations. Can Yana find a way to convince Intergal of Petaybee's sentience before it is too late?