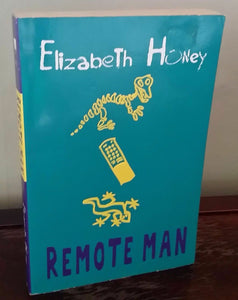 Remote Man by Elizabeth Honey Paperback Book
CONDITION:
Book is in very good shape with light wear to cover. Some tanning to pages. No markings. SHIPS IN A BOX! Packaged with Care.
BOOK DETAILS:

Age Range: 10 and up
Grade Level: 5 - 6
Paperback: 260 pages
Publisher: Dell Yearling (January 13, 2004)
Language: English
ISBN-10: 0440419018
ISBN-13: 978-0440419013
Product Dimensions: 5.1 x 0.6 x 7.6 inches
Shipping Weight: 6.2 ounces
BOOK OVERVIEW:
Ned is a wizard with a computer. The king of the remote control. He adores snakes, lizards, and skinks, but people are less appealing. Less reliable. Ned is . . . Remote Man. What will it take to peel away his protective layer of indifference? How about a mother on the edge? A wild cousin from the Northern Territory? A sudden extended trip to the States? A goofy new neighbor? Nope, it'll take a snake. Or two–one an endangered Australian python, and the other a smuggler who sells wild animals to the highest bidder. When Ned discovers what this animal poacher is doing, his anger forces him into action. Now Remote Man is more like a superhero or super sleuth–tracking down clues and enlisting the help of some Web-wise teens. Can five kids on four continents linked only by the Internet manage to foil a very real-world criminal? You bet your Oenpelli python they can.