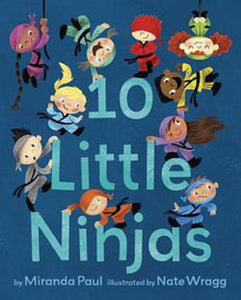 CONDITION:
Brand new, publisher overstock. May have light shelf wear and/or a remainder mark. If you need more than 1 copy please let me know as I often have extras on hand that are not included in the "available quantity for sale".
BOOK DETAILS:

ISBN-13: 9780553534979
ISBN-10: 0553534971
Publisher: Alfred A. Knopf Books for Young Readers
Publish Date: August 2016
Page Count: 32
Reading Level: Ages 2-5
Dimensions: 10.1 x 8.2 x 0.4 inches
Format: Hardcover/Hardback
BOOK OVERVIEW:
A charming bedtime counting book about ten sneaky little characters who aren't ready to go to sleep... until daddy calls the sensei to send them back to bed.
It may be bedtime, but these little ninjas aren't tired. They're sliding, swinging, and slipping out of bed Can Daddy and the sensei ever tuck them in? Filled with mischievous fun, 10 Little Ninjas will take young readers from playtime to bedtime again and again. Kids will love the astronauts, tigers, cowboys, dragons and more