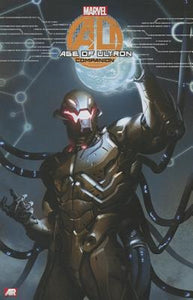 New publisher overstock. May have light shelf wear and/or a remainder mark.

If you need more than 1 copy please let me know as I often have extras on hand that are not included in the "available quantity for sale".
Overview
As Ultron's onslaught continues across the planet, Black Widow pays a high price in San Francisco and Captain Marvel joins Captain Britain in a fight to save London! The Fantastic Four return from a jaunt across time and space in a futile bid to save their homeworld! Otto Octavius, the Superior Spider-Man, believes it will be simple to vanquish an A.I. threat...but his vanity will prove his undoing! And in Los Angeles, Ultron's "son," the android Runaway Victor Mancha, battles to prove he is nothing like his "father." Ultron's attack batters the Fearless Defenders, Uncanny Avengers, Wolverine and more...and in the aftermath, witness a dramatic change for founding Avenger Hank Pym!
COLLECTING: Avengers Assemble 14AU -15AU , Fantastic Four 5AU , Fearless Defenders 4AU, Superior Spider-Man 6AU , Ultron 1AU , Uncanny Avengers 8AU , Wolverine & the X-Men 27AU , Age of Ultron 10AI
Details
    ISBN-13: 9780785184850
    ISBN-10: 0785184856
    Publisher: Marvel
    Publish Date: June 2014>