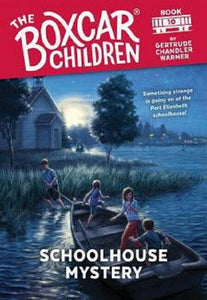 CONDITION:
Brand new, publisher overstock. May have light shelf wear and/or a remainder mark. If you need more than 1 copy please let me know as I often have extras on hand that are not included in the "available quantity for sale".
BOOK DETAILS:

Age Range: 7 - 10 years
Grade Level: 1 - 5
Lexile Measure: 450L
Series: The Boxcar Children Mysteries (Book 10)
Paperback: 128 pages
Publisher: INDPB; Reprint edition (January 1, 1990)
Language: English
ISBN-10: 0807572632
ISBN-13: 9780807572634
Product Dimensions: 5.2 x 0.8 x 7.6 inches
BOOK OVERVIEW:

Henry, Jessie, Violet and Benny used to live alone in a boxcar. Now they livewith their grandfather and are spending the summer in a remote fishing village on the New England coast. There's a mysterious man snooping around the village library. The Boxcar Children don't know the man's secret yet. But they are about to find out!