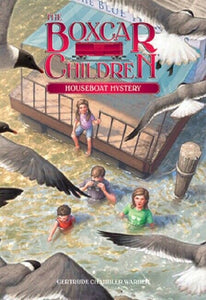 CONDITION:
Brand new, publisher overstock. May have light shelf wear and/or a remainder mark. If you need more than 1 copy please let me know as I often have extras on hand that are not included in the "available quantity for sale".
BOOK DETAILS:

Age Range: 7 - 10 years
Grade Level: 1 - 5
Lexile Measure: 480L
Series: The Boxcar Children Mysteries (Book 12)
Paperback: 128 pages
Publisher: INDPB; Illustrated edition (January 1, 1990)
Language: English
ISBN-10: 0807534137
ISBN-13: 978-0807534137
Product Dimensions: 5.2 x 0.3 x 7.6 inches
BOOK OVERVIEW:
The Aldens spend their summer traveling in a houseboat! But when a black car shows up at every place they dock, the children begin to think someone is after something on the boat. Can the Boxcar Children figure out what the pursuer could be after?