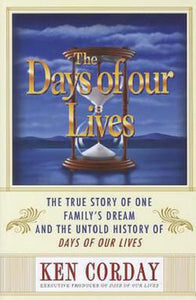 CONDITION:
Brand new, publisher overstock. May have light shelf wear and/or a remainder mark. If you need more than 1 copy please let me know as I often have extras on hand that are not included in the "available quantity for sale".
BOOK DETAILS:

Format: Paperback
Paperback: 288 pages
Publisher: Sourcebooks (November 1, 2011)
Language: English
ISBN-10: 1402260849
ISBN-13: 9781402260841
Product Dimensions: 6.2 x 0.8 x 9.2 inches     
BOOK OVERVIEW:
The "Days of our Lives" is the first insider account of the true history behind one of our most beloved soap operas. It is about the family that conceived it, believed in it, and sometimes seemed to live it along with millions of viewers, as they struggled to create and build one of the most successful and enduring TV shows in history.
For the first time fans will discover the true stories that drove the fictional ones they loved on TV, a story of living a dream and raising a family while everything around you, even fate, seems to conspire against you.