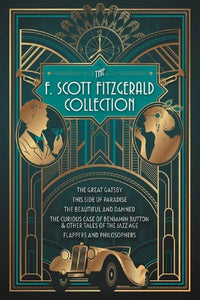 CONDITION:
Brand new, publisher overstock. May have light shelf wear and/or a remainder mark. If you need more than 1 copy please let me know as I often have extras on hand that are not included in the "available quantity for sale".
This compendium brings together a selection of Fitzgerald's finest and most iconic novels, novellas and short stories. F. Scott Fitzgerald is considered one of the greatest novelists of the 20th century, celebrated for his penetrating and moving depiction of the American Jazz Age. Perfect as a gift or collectible, this treasury showcases the variety and depth of his genius.

Includes:
• The Great Gatsby
• This Side of Paradise
• The Beautiful and Damned
• Flappers and Philosophers
• The Curious Case of Benjamin Button & Other Tales of the Jazz Age (including the novellas 'May Day' and 'The Diamond as Big as the Ritz').