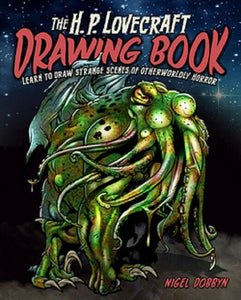 Brand new, publisher overstock. May have light shelf wear and/or a remainder mark.

If you need more than 1 copy please let me know as I often have extras on hand that are not included in the "available quantity for sale".
When it comes to drawing there is no substitute for practice, and with this collection of A visually inspiring, instructional drawing book in paperback format teaching you how to draw otherworldly subjects inspired by the 'Cthulhu Mythos' of HP Lovecraft. Science fiction artist and illustrator Nigel Dobbyn provides clear information on materials and easy, step-by-step tutorials which make the techniques and projects accessible for the absolute beginner, as well as anyone with intermediate drawing skills.

There are 16 projects to sketch including ghouls, aliens, tentacled creatures, terrifying alien beings and reptilian gods from beyond our universe. Hand-illustrated throughout with beautifully simple, one-color sketches, this is a stunning guide to a staggeringly imaginative world of nightmarish art.