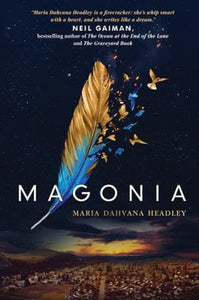 Brand New, publisher overstock copies. Book may have light shelf wear and / or remainder mark.

If you need more than 1 copy please let me know as I often have extras on hand that are not included in the "available quantity for sale".
Maria Dahvana Headley's soaring YA debut is a fiercely intelligent, multilayered fantasy where Neil Gaiman's Stardust meets John Green's The Fault in Our Stars in a story about a girl caught between two worlds . . . two races . . . and two destinies.

Aza Ray Boyle is drowning in thin air. Since she was a baby, Aza has suffered from a mysterious lung disease that makes it ever harder for her to breathe, to speak--to live. So when Aza catches a glimpse of a ship in the sky, her family chalks it up to a cruel side effect of her medication. But Aza doesn't think this is a hallucination. She can hear someone on the ship calling her name.

Only her best friend, Jason, listens. Jason, who's always been there. Jason, for whom she might have more-than-friendly feelings. But before Aza can consider that thrilling idea, something goes terribly wrong. Aza is lost to our world--and found, by another. Magonia.

Above the clouds, in a land of trading ships, Aza is not the weak and dying thing she was. In Magonia, she can breathe for the first time. Better, she has immense power--but as she navigates her new life, she discovers that war between Magonia and Earth is coming. In Aza's hands lies fate of the whole of humanity--including the boy who loves her. Where do her loyalties lie?