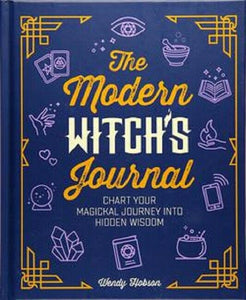 Brand New, publisher overstock copies. Book may have light shelf wear and / or remainder mark.
If you need more than 1 copy please let me know as I often have extras on hand that are not included in the "available quantity for sale".
The Modern Witch's Journal is the perfect antidote to the modern world, providing simple spells, rituals and meditations to achieve the peace and fulfilment we all desire.

Drawing on wiccan lore, these pages will teach you:
* How to harness the power of the winter and summer solstices
* The influence of the elements, chakras, and crystals
* The roles of the sun, moon, and planets in the witch's year
* How to respect the natural world and trust your intuition

And more!

With space throughout to fill in your own thoughts, experiences, spells and milestones, this journal will help to reflect on many aspects of your life - be it friendships, work or organizing your home.

Whether you want to learn to meditate, discover the meaning of different colours or explore the signs of the zodiac, this unique journal will inspire you to learn more about witchcraft and put this knowledge into practice.