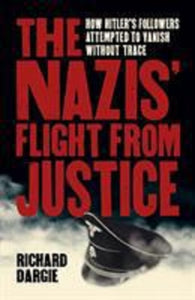 CONDITION:
Brand new, publisher overstock. May have light shelf wear and/or a remainder mark. If you need more than 1 copy please let me know as I often have extras on hand that are not included in the "available quantity for sale".
While the Nuremberg trials saw key Nazis prosecuted, it was impossible to imprison every German who had supported the Third Reich. This is the story of what happened to those who escaped justice, the institutions that protected them and the courageous people who tracked them down.
A collaboration between expert historian Richard Dargie and illustrious author Julian Flanders, this gripping account reveals many shocking cases. Hear about the hidden 'ratline' escape routes to South America, the infamous Butcher of Lyon who was smuggled to Bolivia by the US government, Nazi hunters Beate and Serge Klarsfelt who tracked down numerous Nazi war criminals and many more astounding tales.
This fascinating book studies how East and West Germany recovered from the rampant Nazism of the Second World War, and the individuals who slipped through the net.