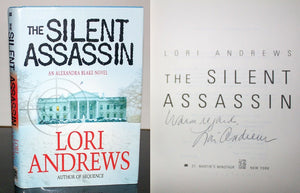 The Silent Assassin Dr. Alexandra Blake Novel by Lori Andrews SIGNED 1st Edition
PRODUCT DETAILS
SIGNED by Author. First Edition / 1st Printing. In very good shape with light wear to cover. No markings to text. Small "dot" remainder mark on top edge. DJ in very good shape with light wear. SHIPS IN A BOX! Packaged with Care.
| | |
| --- | --- |
| Title | The Silent Assassin Dr. Alexandra Blake Novel by Lori Andrews SIGNED 1st Edition |
| Author | Andrews, Lori |
| Book Format | Hardcover |
| ISBN | 0312352719 |
| Condition | Collectible, Very Good |
| Dust Jacket Condition (If Applicable) | Very Good |
| Edition | First Edition |
| Publisher | Minotaur Books |
| Published Date or Year of Book | |
| Book Category or Subject | Books:AntiquarianCollectible |
InkSpiration Books eBay Store Website:
Please visit our online bookstore to browse our wide selection of used second hand books, non fiction,  paperbacks, hardcovers, collectible books, rare books, signed books, 1st ed, antique / old / antiquarian books, leather bound books, and weird unique books.
InkSpiration Books is a 2nd hand, used bookshop / book store based in Brownsburg, Indiana on the westside of Indianapolis. We believe that reading is more than just looking at words on paper- it's about learning more about your favorite hobbies, pursuing your goals in life, being welcomed into fictitious worlds, and preserving the past. We don't just sell it, we live it! As book lovers ourselves, InkSpiration Books is dedicated to customer satisfaction and quality, professional service.
Shipping
As a book collector and enthusiast myself, I've ordered many books online and am shocked at the poor methods of packing and protection that are generally used - antique books thrown in thin bubble mailers, books thrown into boxes way too big, and generally no care for the condition of the book. Nearly all of our books are shipped in durable, protective boxes. Collectible, antiquarian, and signed books are given special attention to ensure safe delivery. We also shrink wrap our books or put them in poly bags to prevent any water damage in case the carrier makes a mistake and leaves the package where it could get wet from rain. Packing paper is also used to make sure the book does not bang around inside the box and provides extra protection. Most of out books are also available for international shipping, but please check the individual listing for availability
Satisfaction Guaranteed
We are dedicated to our customers, and your satisfaction is important to us! If you are not happy with your order, please contact us, and we will do our best to resolve the issue. Returns are accepted for 30 days. Brand new items in original shrink-wrap must not be opened in order to return.
(Item #201701703|0)
Take 5% Off Your Order By Buying Any 2+ Items In Our Store!