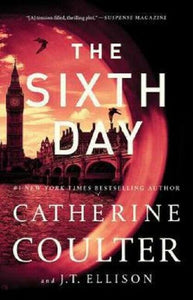 Brand New, publisher overstock copies. Book may have light shelf wear and / or remainder mark.
If you need more than 1 copy please let me know as I often have extras on hand that are not included in the "available quantity for sale".
ISBN-13: 9781501196386
ISBN-10: 1501196383
The mystery: shocking.
When several major political figures die mysteriously, officials blame their deaths on natural causes. However, when a small drone is spotted at the scene of the most recent death, it quickly becomes clear to FBI agents Nicholas and Michaela that there's more to this mystery than meets the eye.
The key: indecipherable.
Dr. Isabella Marin is a language expert, and she's dedicated her entire life to researching an ancient text that has long been considered indecipherable...that is, until now. When it becomes clear that there's an alarming pattern between the text and the recent deaths, she teams up with the FBI to find the link. It's clear that the manuscript is the key to catching the killer. But how?
The case: nearly impossible.
When Nicholas and Michaela uncover plans for a devastating attack on London, they must race against the clock to stop the killer before it's too late. Not only are they in danger of losing the manuscript--an object of extreme value--but they're also at risk of losing more innocent lives: including their own.