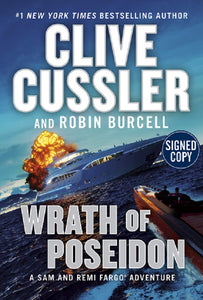 CONDITION:
Brand new. Signed 1st Edition, First Printing. Sam and Remi Fargo Adventure Series Book 12
Ten years ago, a chance meeting at the Lighthouse Caf in Redondo Beach led Sam Fargo and Remi Longstreet on the adventure of a lifetime, hunting the legendary riches stolen from the Persian King Croesus in 546 B.C. But they weren't the only ones. Someone else is after the gold, and he's willing to kill anyone who gets in his way.
When Sam and Remi run afoul of a criminal drug-running operation, their hopes of finding the treasure are dashed. But with Sam's ingenuity and Remi's determination, they survive their confrontation with the drug runners, and manage to send one of the key players to prison. Though the cache of gold is never found, life goes on. Sam and Remi marry--and years later return to Greece to find the one treasure that got away.
Time becomes their enemy when the kingpin they helped send to prison over a decade ago is released--and he has two goals in mind. Find the legendary hoard of King Croesus, and kill Sam and Remi Fargo. The Fargos know that as long as this gold is out there, no one is safe. They return to Greece for a final showdown--and one last chance to find that elusive treasure.