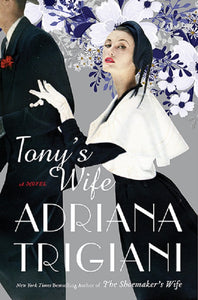 Brand new, publisher overstock. May have light shelf wear and/or a remainder mark.

If you need more than 1 copy please let me know as I often have extras on hand that are not included in the "available quantity for sale".

Set in the lush Big Band era of the 1940s and World War II, this spellbinding saga from beloved New York Times bestselling author Adriana Trigiani tells the story of two talented working class kids who marry and become a successful singing act, until time, temptation, and the responsibilities of home and family derail their dreams.

Shortly before World War II, Chi Chi Donatelli and Saverio Armandonada meet one summer on the Jersey shore and fall in love. Both are talented and ambitious, and both share the dream of becoming singers for the legendary orchestras of the time: Glenn Miller, Tommy Dorsey, Benny Goodman. They're soon married, and it isn't long before Chiara and Tony find that their careers are on the way up as they navigate the glamorous worlds of night clubs, radio, and television. All goes well until it becomes clear that they must make a choice: Which of them will put their ambitions aside to raise a family and which will pursue a career? And how will they cope with the impact that decision has on their lives and their marriage?

From the Jersey shore to Las Vegas to Hollywood, and all the dance halls in between, this multi-layered story is vivid with historical color and steeped in the popular music that serves as its score. Tony's Wife is a magnificent epic of life in a traditional Italian family undergoing seismic change in a fast paced, modern world. Filled with vivid, funny, and unforgettable characters, this richly human story showcases Adriana Trigiani's gifts as a storyteller and her deep understanding of family, love, and the pursuit of the American dream.