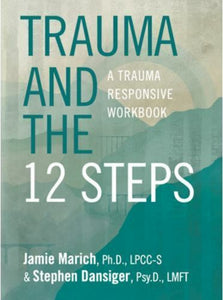 Trauma and the 12 Steps: a Trauma Responsive Workbook by Stephen Dansiger and Jamie Marich (2020, Trade Paperback)
Title: Trauma and the 12 Steps: a Trauma Responsive Recovery Workbook
Author: Stephen Dansiger and Jamie Marich
ISBN-13: 9781733703048
Year: 2020
Publisher: Creative Mindfulness Media
Format: Paperback
Condition: Book is in very good shape with light wear. No markings. SHIPS IN A BOX! Packaged with care.
Genre: Alcoholism; Addiction; Recovery; Trauma Response
Book Summary: Unhealed trauma is a blocking factor and why many people in recovery stop short of engaging in step work. Jamie and Steve seek to break down the process in a gentle yet action-oriented manner. Each step contains a personal reflection from both Jamie and Steve on how they work the step, a teaching on how unhealed trauma blocks may make a step difficult, with solutions for how to address, brainstorming activities for writing, guided by questions, expressive arts options offered in place or in addition to writing, and a specially-prepared meditation for each step. This step workbook also offers variations for people who are working the step for the first time, and for those who may be on a repeat journey through the steps.